Curvey Scholarship for
Schuylkill County
$15,000 minimum
annual scholarship for tuition assistance – four opportunities per class year
Curvey Scholarship for
Brewster Academy
$15,000 annual
scholarship for tuition assistance – one opportunity per class year
No separate application process!
Every applicant to Villanova University from the eligible schools will be considered
The Curvey Fellowship
One-time award of up to $20,000 to each Curvey Scholar for independent study
Frequently Asked Questions
about the Curvey Scholarships & Fellowships
Scholarships
There is no separate application process for The Curvey Scholarships. Each applicant to Villanova University from the eligible schools will be considered. Find out more about the Villanova admission process at Villanova.edu now!

First-year prospective students should visit the Undergraduate Admission page to review the four admission plans and timelines for their application for admission.

Villanova University is located in Radnor Township, 12 miles west of Philadelphia. The 260 acre picturesque, suburban campus is served by two commuter rail lines and is close to major highways.

Applicants for admission to Villanova are evaluated on their high school academic record and class standing, scores on standardized tests, involvement in social and leadership activities, and the student essays. While competitive, it is important to note that the admission process at Villanova is a personal one. Students interested in Villanova and the Curvey Scholarship are encouraged to schedule a campus visit which will include an opportunity to speak one-on-one with a representative from the Office of University Admission.

Each student who applies to Villanova University from one of the five Schuylkill County high schools and Brewster Academy in Wolfeboro, New Hampshire, is considered for a Curvey Scholarship.

Scholarship recipients are determined based upon a combination of academic merit and demonstrated financial need. Recipients will be notified directly by the University and the Scholarship will be included as part of the financial aid package.

Villanova University is dedicated to providing students and parents with a competitive financial aid package to assist in meeting educational expenses. Our Scholarships' values are designed to work with other forms of assistance—such as grants, scholarships, loans and student employment—to help make a Villanova education affordable. For more information about the financial aid process, please visit finaid.villanova.edu.

Overseen by the Curvey Assistant Director of Endowed Scholarship Services, the strong network of current and former Curvey Scholars creates a "community within a community" at Villanova University. Students on campus connect with and support each other and activities throughout the year unite current and former Scholars, complementing ongoing University programming and providing opportunities to strengthen community bonds.

Resources exist to help each student make the most of their Villanova experience. Faculty and staff work together to provide academic support, assist with course selection and identify internship and career opportunities. In addition, the Curvey Assistant Director of Endowed Scholarship Services meets regularly with each Scholar to identify concerns, offer guidance and provide support, empowering Scholars to take the lead in their own success.
Fellowships
Each fall after freshmen year, Scholars are asked if they are planning – or considering – a Curvey Fellowship experience during the upcoming year. Over a series of meetings with the Curvey Assistant Director, they are asked to do a significant amount of planning to narrow down goals, trip focus, destinations and itineraries. The application process consists of preparing a brief essay and a detailed itinerary and budget that are submitted for consideration in January.

Curvey Fellows can use their award to participate in academic or enrichment programs, independent travel or other activities that contribute to personal growth and development. Travel should be the centerpiece, with most Fellows choosing international destinations and experiences. The program is meant to be open ended and tailored to fit each individual's goals. The focus of each Curvey Fellow's experience should be to pursue a passion that is particularly important to him or her.

The Curvey Fellowship covers all travel costs including airfare, rail, hotel, food and spending money. In the budget, Curvey Fellowships are encouraged to include costs associated with passports and visas, if needed, and international cellphone coverage for the duration of their trip. Also, as this award is taxable, each Curvey Fellow is strongly encouraged to consult an accountant or tax advisor during the planning process.

Successful Curvey Fellows are notified in February or March. Funds are disbursed shortly thereafter.

Each Curvey Fellow is enrolled in the International SOS program. International SOS is the world's leading international healthcare, medical assistance, and security services company. The services provided by International SOS range from telephone advice from a physician, referrals to more than 68,000 global, vetted providers to medical and security evacuations. As part of the detailed itinerary that each Curvey Fellow prepares, they identify and include the local equivalent of 911 and the US Embassy contact information in each country. Curvey Fellows are expected to carry this information, as well as the International SOS contact information, with them throughout their travels.
James C. Curvey '57 VSB
Mahanoy City Native & Villanova University Graduate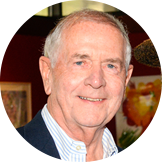 James C. Curvey is vice chairman of the Board of Directors of FMR LLC, the holding company for the businesses of Fidelity Investments, and serves on the Board of Trustees of the Fidelity Group of Mutual Funds. He retired from his successful 20-year career at Fidelity Investments in December 2002.
Mr. Curvey is a 1953 graduate of Mahanoy City High School. He received a bachelor of science degree from Villanova University in 1957 and a master of arts degree from George Washington University in 1962. Throughout his life, Mr. Curvey has demonstrated a sense of commitment and dedication to both his hometown of Mahanoy City and Villanova University. Since 1999, an endowed scholarship program in his name has joined these two interests by providing financial aid resources for talented young people from Mahanoy City and the surrounding region to pursue their education at Villanova. In 2019, the program expanded to include a new scholarship which grants one student each year the opportunity to attend Villanova from Brewster Academy (N.H.), where Mr. Curvey serves on the board of trustees.
Early in his career, Mr. Curvey received a fellowship from the National institute of public Affairs which allowed him to pursue further his education at the University of Chicago and learn from that city's unique people, places, and cultural institutions. Mr. Curvey has not forgotten the benefits of this experience and understands that well-rounded young people gain just as much from opportunities to travel, conduct research and explore interests as they do from lessons learned in the classroom. This unique perspective on how a complete educational experience can effectively prepare students for future success has led Mr. Curvey to establish the Curvey Fellowships at Villanova University.
Program Contact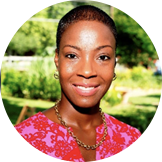 Ivy Karolyi serves as the James C. Curvey Assistant Director of Endowed Scholarship Services at Villanova University. In her role, she helps Curvey Scholars navigate their post-secondary journey and collaborates with staff from the select high schools and campus departments to create awareness of the Scholarship and Fellowship programs at Villanova; engage interested students and parents/guardians; and encourage applications to the University. Ivy also facilitates both professional and social engagements throughout the year designed to build community among current Curvey Scholars as well as Scholars and Alumni.